The StaiWell bag is specially designed to hold all your diabetes supplies, juice, snacks and personal items. It can be carried as a backpack, shoulder bag or handbag. With the StaiWell bag, everything you need is organized, safe and convenient. Use it wherever your are...at home, work, school or play!
Introduction to StaiWell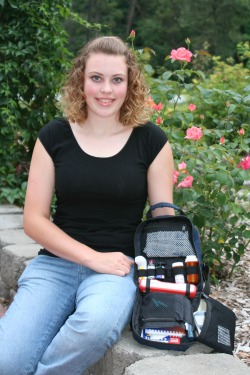 Hello, my name is Staisha and I would like to welcome you to the StaiWell home page. The original StaiWell bag was designed in 1999 for me, by my Mom. We wanted a bag that would hold ALL of my diabetes supplies, plus juice and snacks. My Mom wanted it to be a backpack so I wouldn't accidentally leave it when we were out and about. I wanted it to be in style, and it could NOT look like a "medical kit"....I need to look cool! So as you will see the StaiWell bag has all that and more! Now you can organize your diabetes supplies and you can -

Stay Cool, Stay Prepared and StaiWell!



---